DESCRIPTION : PTFE COATED GLASS FABRIC ADHESIVE
PTFE coated glass fabric adhesive is a high temperature resistant fabric made of a fiberglass fabric support impregnated with PTFE (Polytetrafluoroethylene, also know as Teflon from Dupont Nemours brand). This fabric has one side silicone adhesive (silicone polymer). This side is protected by a yellow liner film that is removed before application on any clean support.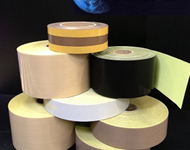 Non-sticky – very smooth – easy to clean
Temperature resistance from -70°C to +260°C in operating temperature, and +315°C in intermittence
Self extinguishing
Excellent dimensional stability
Temperature and pressure have no noticeable effect and no creep
Odorless and tasteless. Ability to enter with food products
Excellent resistance to friction
Reference
Standard dimensions
Thickness in mm
% PTFE
Weight in g/m²
Fabric sold in sqm or in rolls

of 30 linear meters x required length

208AP
Max width 1525 mm
0,08
67
135
216AP
Max width 1525 mm
0,13
54
255
216AAP
Max width 1525 mm
0,15
63
296
228AP
Max width 1525 mm
0,25
55
490
141AP
Max width 1525 mm
0,35
57
720
ALTERNATIVE : PTFE COATED GLASS FABRIC ACRYLIC ADHESIVE
PTFE coated glass fabric with acrylic adhesive is easily recognizable with its blue and smooth protection liner. Support and construction of fabric is the same as silicone adhesive one.
Main advantages of acrylic adhesive compared to silicone one are :
Better adhesion
Better solvent resistance.
Nota : Operating temperature resistance is much lower than for silicone adhesive (from -40 ° C to + 170 ° C for the acrylic adhesive against -70 ° C + 260 ° C for the silicone adhesive.