LTX-733 is a flexible, low-viscosity rubber compound designed to protect or mask printed circuits, terminal contacts and other systems during manufacture, assembly and wave soldering operations.
It also provides protection during storage. It obviates the need for adhesive pads.
Pull gently, and the film will peel off without a trace.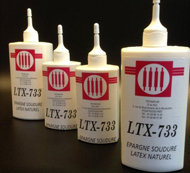 Eliminates the risk of soldering reaching the terminal contacts, screw heads, etc.
Apply by dipping, brushing or pouring.
Can resist temperatures of 300-360° for 5-10 seconds
Will not tarnish gold or phosphoric bronze
Protects delicate components
Prevents any contamination during assembly operations
Can be used to dampen vibrations for fragile electronic components
Toxicity: natural latex
Evaporation: see water
pH: 11
Viscosity: 7000 centipoises at 20°
Solubility: water before vulcanisation, no solvents after
Vulcanisation: around 30 minutes at a room temperature of
Resistance to heat:

* 20-22°C or 10 minutes at 80°C
* 150°C over 1 to 3 hours
* 260°C during the soldering time